Graveyard

a view of everything

Coordinates

X: -340 Z: 20

Location Type

Camp

Zombie Threat

Loot

Health potions

No

Water source

Yes, a nearby river

Crafting table

No

Biome

Plains
The Graveyard
is a location south of
Evergreen Manor
that contains various graves and names of people who have bought a gravestone. The zombie rate is very high and there are three chests that contain decent materials. You receive an achievement for visiting this place.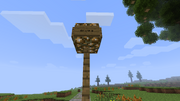 It is recommended to visit this area only for desperate attempts for food, for the achievement, or for adding content to this page. There is 6 spots where chests can spawn in the graveyard.
Ad blocker interference detected!
Wikia is a free-to-use site that makes money from advertising. We have a modified experience for viewers using ad blockers

Wikia is not accessible if you've made further modifications. Remove the custom ad blocker rule(s) and the page will load as expected.