Grimdale Farm

Coordinates

X: -2200 Z: 80

Location Type

Farm

Zombie Threat

Loot

Health potions

Rarely

Water source

Yes

Crafting table

No

Biome

Forest
Grimdale Farm is located Northwest of Grimdale at (X: -2200, Z: 80). It is a farm with a farmhouse, barn, and a silo. The house contains 2 stories, one chest on each floor. The barn also contains 2 floors, 2 chests on ground level, and 1 chest on top. The silo has 1 chest inside of it.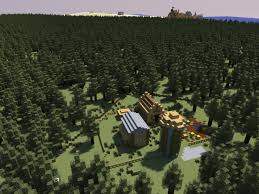 There is a way to be safe from all zombies; if you climb the silo's vines, you can access a small ledge above the silo's doorway, you're untouchable there. You can also climb to the very top of the silo. The top of the silo may sometimes contain a zombie.
Ad blocker interference detected!
Wikia is a free-to-use site that makes money from advertising. We have a modified experience for viewers using ad blockers

Wikia is not accessible if you've made further modifications. Remove the custom ad blocker rule(s) and the page will load as expected.