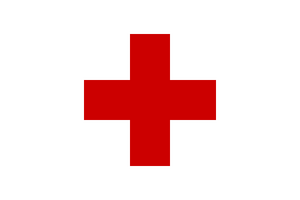 Bananas are what allow you to begin hurting another player. Left click them to start hurting and then finish off with your sword. Also, you can use a banana on yourself by using right click to hurt yourself 2 health when not bleeding (1 heart) or 1 health while bleeding and the bleeding will stop.  Give these to bandits.

Edit
Shears are used to check how much health a player has and as the final step in healing others.  If you do not have a bandage, shears will damage people that you hit.
Red Dye (or Rose Red)
Edit
Red Dye (Rose Red) is used in the process of healing others and does not have any other current use. Rose red will provide an extra 4 seconds duration to the regeneration time healing provides, effectively doubling the amount of hearts recovered which in total heals 10 health (5 hearts).
Lime Dye (also referred to as "antibiotics") can only used on other players. It is only currently used for curing the zombie sickness players rarely acquire when hit by a zombie.
How To Heal and Cure Other Players
Edit
To heal or cure other players, you must first left-click on a player with a bandage to apply it. After you apply the bandage, you may then left-click to apply the red dye, to heal the player, or the lime dye, to cure others of the zombie disease. However, these dyes are not required and you can heal others without them, you can also use both dyes in one heal. You then left-click on them with shears to finish off the heal. If you successfully heal someone, pinkish/purplish particles come off of the player. After healing, you may not heal that same person for up to five minutes. Note: Your shears must be in your bottom bar or the game will not let you begin healing.
When a player hurts another player twelve times, his/her nameplate changes from being white to becoming a orange tint. This signifies a hurter and is almost the exact opposite of a troll. Note killing 6 people shall turn your name into a hurter and it will NOT reverse! the best way to fix this is relogging (for normal players, pay ranks are unknown, please test this somebody) it also resets the "zombies killed this life" when logging.